after the twilight
Since landing a major role in that 
vampire movie series, Ashley Greene has 
mastered the red carpet, battled paparazzi and become a DKNY muse and Mark makeup icon. 
But she's still got something to prove.
"I won't lie, there are times when I'm like, 'Why is this so hard?' " Ashley Greene is saying. "You come off a high like Twilightand then you get dropped back down to reality."
We're sitting in a cozy Italian restaurant near Times Square on a rainy winter evening, and Greene—who is best known for playing Alice Cullen, the cheeriest vampire in the Twilight saga movies—is laying out her game plan for making it even bigger in Hollywood.
"Twilight has given me something to skyrocket off of," Greene says. "But now that it's ending, there's so much work to be done. And if I don't do it, then Twilight's all I'm ever going to be known for, as great as it is."
Greene is dressed in all black, including a sleek, faux-fur Marc Jacobs vest, plus shadowy eye makeup—but somehow she doesn't look at all goth. Instead she almost sparkles, like the moon or stars or werewolf eyes or something. Nonetheless, as she speaks, it becomes apparent that having a cult-like following at just 25 may not be quite as cool as it sounds. On the one hand, the throngs of obsessed fans make her feel like a superstar. They build adoring websites dedicated to her and fixate on every single thing she does (this category includes certain creepy folks who staked out her parents' house in Florida and a paparazzo who once drove directly into her garage in L.A.). On the other hand, she still has to prove herself as a leading actress and audition for people who may not be Twilight fans—only now her competition is often big-time celebrities. "Basically I went from 'dying to get a gig' to 'dying to get the gig that everyone wants,' " she says. "So now I'm in this realm with a lot of highly respected actresses, which is an amazing place to be, but also kind of terrifying."
Greene is moving like mad to get what she wants: The fourth Twilight movie came out in November and grossed $138 million over the opening weekend; soon after that she shot four episodes of ABC's Pan Am; this month she'll costar in the quirky film Butter and appear in ad campaigns for DKNY and DKNY Jeans ("I love how Donna Karan designs for real women with curves," Greene says); later this year she'll appear in the final Twilight movie, take her first lead role, in a summer horror flick called The Apparition, as well as costar inLOL with Demi Moore and continue her gig as the global ambassador for Mark cosmetics. "I mean, I think I'm doing all right," Greene says as raindrops pelt the restaurant's windows. "But the main focus is trying to solidify my spot in Hollywood because, you know, I'm not there yet."
This sense of insecurity has driven Greene—with good results—since childhood. "My mother put me in modeling classes because I had low self-esteem," Greene says. "I was friends with older people, so I was always around someone more mature who boys responded to. I think that kind of messed with me."
Greene's mother would tell her, "You're beautiful, and you just don't know it." But it didn't help. "I was like, 'You're my mom, you have to say that!' " Greene says in a bratty teen voice. "She never actually wanted me to be a model; she just wanted me to feel good about myself. But then there was a chain reaction." The modeling class led to acting classes. "All of a sudden I wanted to be an actor, and of course, my mother was like, 'Oh, great, what did I do?' "
Greene memorized lines till midnight, practiced acting techniques, auditioned her heart out—and it worked: She landed an agent when she was 17. "And he said, 'Okay, you have to come out to L.A. for pilot season,' " Greene recalls. "And I was like, 'I'll be there!' " The ultra-driven student already had enough credits to graduate, so she ditched the last half of her senior year and moved to Hollywood. Alone.
She went with her parents' blessing—and agreement that if it didn't work out in a couple of years, she would move back to Florida to go to college. In L.A., she spent her days taking acting classes and driving from one audition to another. "I actually cried the first time I drove on the freeway there," Greene says, laughing. "It was raining, and it was so different from Jacksonville, and I just freaked out. I didn't get back on the freeway for a month!"
Once she started to make new friends, she faced some classic Hollywood challenges—challenges not every young starlet has navigated so well. "I was like 'Oh, I can go out and do this and do that,' and it took me about five seconds to realize 'If you do that, you're not going to book jobs, and there are 10,000 girls who want your job.' "
"You mean like partying and stuff?" I ask.
"Yeah. It's all glitz and glamour in Hollywood, and you want to be part of it. And the deadly thing is that you meet people who do have the money and do have fame and are in a position to not spend every waking moment working toward getting a job, and it's easy to feel like you can do it too, when really you haven't earned it. You can either socialize or you can study your script, and luckily I learned that pretty quick!"
She nabbed her first paying gigs after about a year: Crossing Jordan, followed by a brief appearance on Mad TV. And then right around the time her parents started to hint that maybe it was time to move back home, she auditioned for Twilight. "I'd fallen in love with the book, so I was like 'I need to be part of this, and that's all there is to it,' " Greene says. "I prepped as much as I possibly could." She first read for the lead role of Bella—but lost out to Kristen Stewart. (She says she has no hard feelings about this now: "I honestly understood, and I always related more to Alice than to Bella.") Then they called her back to try out for Alice, and … nothing. Early one morning a couple of months later, her phone rang. She ignored it. It rang again.
"I answered a little grumpily, but when my agent told me the news, I freaked out and called my parents—and my dad almost cried, which was kind of cool," she says with a big smile. "My dad was a Marine; he doesn't cry a lot."
Like Alice Cullen, who can see into the future, Greene also has a secret talent: running in heels. "When I took the modeling classes in Florida, they had us walk in crazy heels and do the whole runway thing. And actually?" Greene says, laughing. "That's been very helpful, because I can walk and run in pretty much anything! And they will have you run in heels in films, as ridiculous as it sounds."
Greene sticks her leg out to show off some breathtakingly high, pointy black boots. "These actually aren't that bad," she says. "My stylist usually puts me in five-inch heels, it's crazy."
Her stylist happens to be Cristina Ehrlich, who has a particularly fashionable roster of celebrity clients, including Lady Gaga, the Olsen twins and Milla Jovovich. Greene met Ehrlich after the movie producer Joel Silver invited her to join him for the premiere of hisSherlock Holmes film in 2009, while they were working together on The Apparition. When Greene agreed, Silver suggested she meet with Ehrlich or some other stylists to plan her outfit.
"Were you insulted, like 'I can style myself'?" I ask.
"No. Are you kidding me? I was like 'Yes!' " she says, excitedly. "Listen, honestly, you don't get sent L'Wren Scott if you're just yourself. Cristina has those relationships with designers—and now I have access to them, too!"
Greene says she got "bit by the fashion bug" after she started going to fancy events forTwilight—when she immediately became enchanted with the magnificent clothes she got to wear. "My mom was so funny the other day, because I was saying, 'You can wear this designer to this, but you can't wear that designer to an afterparty.' And she just started giggling and said, 'Wow, you've really come into your own in this fashion world!' "
One awards show Greene attended turned out to be memorable for all the wrong reasons. Here's how she tells it: "I wore a dress with boning that was zipped so tight it bruised my rib cage. It made this really beautiful tiny-waist silhouette with a kind of Old Hollywood glamour, but I could barely walk. To accept the award, I basically had to be carried up the stairs. And then I had to go to the bathroom, but when I got there I realized I couldn't unzip the dress and I couldn't pull it up. And I was already in the stall, which is the worst because then everything's ready to go! Oh, and also my feet were numb because I was wearing these ridiculously high Brian Atwood heels that were beautiful but—it was just the most painful experience ever! I had to wait through the rest of the ceremony and then rush home afterward. So you should always make sure you can go to the bathroom before you go out." She leans back and laughs.
In this month's Butter, a comedy about a butter-carving competition, Greene expanded her repertoire in more ways than one: Not only was it her first comedy, it also involved her first love scene with a woman, Olivia Wilde. "It wasn't that awkward," Greene says about the makeout session. "It's the same idea when you're having to kiss a male costar and it's not real. Olivia is such a cool chick and very professional. So we were just messing around and cracking up in between scenes, and it ended up being really fun." She smiles. "And now I'm the envy of every straight male everywhere!"
With all the glamorous events and photo shoots and prepping for auditions—yes, she still stays home to read scripts over and over and over again—it's not too surprising that Greene isn't seeing anyone at the moment. While she has dated at least one famous guy (Google it), Greene says that her ideal partner isn't necessarily in showbiz. "What's most attractive to me is someone who has the same amount of drive as I do, someone who's equally passionate about what they do, and equally busy," she says. "But I think that would be a tall order."
And anyway, Greene adds, she doesn't need the distraction of a serious relationship right now—there are vampire-free movies to make, producers to woo and red carpets to step on in her five-inch heels. "I'm so laser-focused on my career, because when you're dealt these cards, if you don't kind of run with it, then you're an idiot," she says, before picking up her umbrella and heading out into the rain. "You've gotta take advantage of what you've been given."
"This is a great example of a classic silhouette that's sexy but not too revealing. I wouldn't normally think of wearing this mustard yellow, but it actually goes nicely with my skin tone."
"I tend to stay away from printed dresses, but this one just works! It's not too overwhelming."
"This outfit can go from day to night, just by swapping flats for heels. The pink shorts are playful, and this top is one of my closet essentials."
"I love this bright, springy green and all the fun embellishments."
"I love this pattern and the subtly sexy fit. The material is really light and comfortable for spring."
"My toy fox terrier, Marlo, is always with me. She's like my child, and she instantly brightens up everything."

1. "I love traveling with my MacBook Air—it's so light. And Audrey Hepburn is my screen saver because she's the epitome of style and grace."
2. "This is big enough to carry all my stuff, and I like the sleek, classic lines."
3. "I swear by Mark makeup wipes—they're just
damp enough—and Mark mascara, because it defines your lashes."
4. "My iPhone is like my portable lifesaver. My parents now know how to text, so this is how we keep in touch."
5. "I like hardback books, lists and writing my schedules down."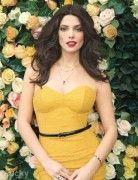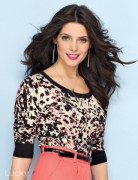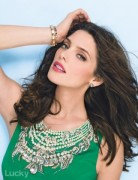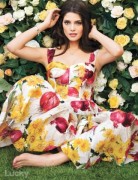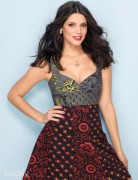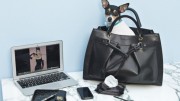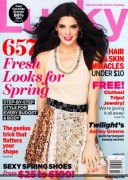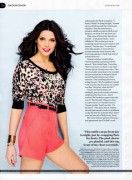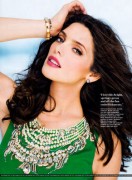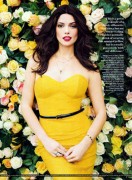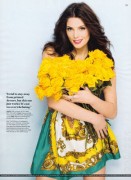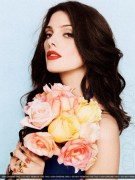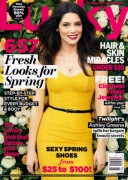 Lucky
,
ash-greene
xoxo
Carrie