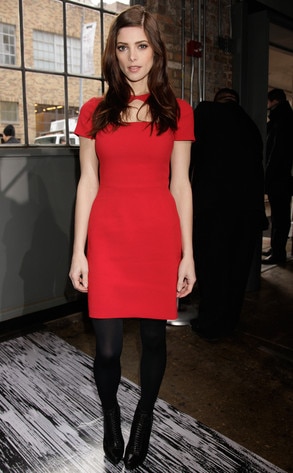 Stars from the mega-popular vampire saga sunk their teeth into New York Fashion Week by popping up all over the place—at shows, parties and on the red carpet. Forget trying to crown this year's It boy or It girl: Twilight delivered Fashion Week's undisputed It cast!
Nikki Reed was spotted at no fewer than four shows within three days, while Kellan Lutz has been equally ubiquitous (not to mention a big turtleneck fan!).
Meanwhile, Ashley Greene hit the DKNY show today in Chelsea. We caught up with the elegant star for a few minutes and wondered: Are she and her costars planning a Twilight reunion in New York?
"I actually just got in town!" said the busy star, dressed in a sleek blood-red mini (how fitting!). "But I think after all the fashion shows, we'll maybe have a chance to sit down and have dinner."
Apparently, she's already had quite the whirlwind trip. "I got in, I had to do a little bit of work, fittings and stuff like that, and passed out last night. Got up this morning and got ready for this!"
But she's looking forward to reconnecting with Lutz and Reed in New York. "Hopefully our schedules aren't conflicting, though, because while one's not busy, usually the other one is."
Now that shooting has wrapped on Breaking Dawn: Part 2, are the stars able to stay in touch, despite their busy schedules?
"Yeah, definitely," Greene said. "I think it's nice because most of us are based in L.A., so we do get to see each other."
As she settled into her front-row seat at the DKNY show, we had to know: Which of her dashing male Twilight costars does she think is the most stylish?
"Taylor Lautner!" she offered. "He's always so well dressed."
--
eonline.com
~Robstenfan